Drawing is a skill. And one that takes practice. This makes consistency probably THE most important factor in getting good at it. Finding some easy beginner drawings that appeal to you, makes this a lot easier. They can offer a sense of achievement, which is great for motivation and for making your drawing journey a lot more enjoyable. Besides that, they also offer some awesome ways to practice your basic drawing skills.
In Order to Become a Good Artist, You Must First Allow Yourself to be a Bad Artist.
When you start out on a mission to learn to draw (or to learn anything, really) it is easy to get caught up in the idea of talent (or lack there of) being the defining factor for your success. And also having a notion, that anything you create should be your next masterpiece. These things could not be further from the truth!
What you need is practice and more practice. Draw all the time, if you can. Have a sketchbook with you, that you use for doodling as well as sketching. Draw on any paper, that you see lying around. Use anything you have handy: ballpoint pens, markers, pencils, whatever! Anything to develop your hand. (This also has the added benefit, of giving you a sense of the different materials available to you, because they ALL feel different, and they all give different results.) And DO NOT be afraid of drawing things that turn out horrendously! How else are you going to learn?!? If you only draw things that you already know how to draw, you'll never truly develop as an artist!
Motivation Through Achievement
While working on difficult designs, and not being afraid of failure in drawing is essential, motivation definitely is as well. There are many ways to get motivated, but one thing we know for sure is, that motivation is fickle. It comes and goes, so it's good to have some methods to boost your motivation. And one way to do this is through a sense of achievement. Drawing something that turns out well. It gets very frustrating if you're constantly struggling to make anything look halfway decent. Spending a good amount of time on a drawing, and just not being happy with the final result is quite disheartening. Easy beginner drawings to the rescue! Drawings that are easy to master, and give a satisfying result in the end, can be just the encouragement you need to keep going. Fortunately there are plenty of them around. You can find them on Pinterest, Instagram, or just by doing a Google search, and there are loads of options.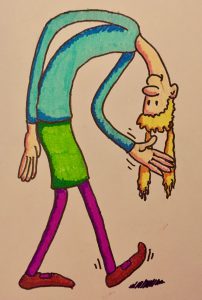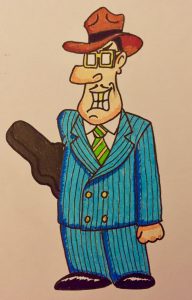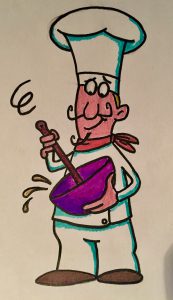 "Bendy girl", "Gangster" and "Chef". Three drawings I did from from the book "How to Draw 101 Cartoon Characters" by Dan Green. These are perhaps a little too simplistic and silly for my taste, but nevertheless, I found them to present a fun challenge at the time. In his book Dan breaks all the drawings down into small steps, making them very easy to follow along with. The "Wise Owl" at the top of this post is from the same book.
Lines – Awesome Exercises for Skill Practice!
At the core of it, drawing is just putting lines together… That's all it is! So for us, as aspiring artists we would be wise to practice our lines.
Here's a collection of really simple drawings that I drew, consisting of mostly straight lines. I came upon these somewhere on the interwebz, and found them to present a nice beginner challenge for myself, so I'll pass them along to you. Go ahead and have some fun with these. (I sketched them out in pencil first, and then I overlined them in black ink, to make them stand out better for this article, but you absolutely do not need to do that).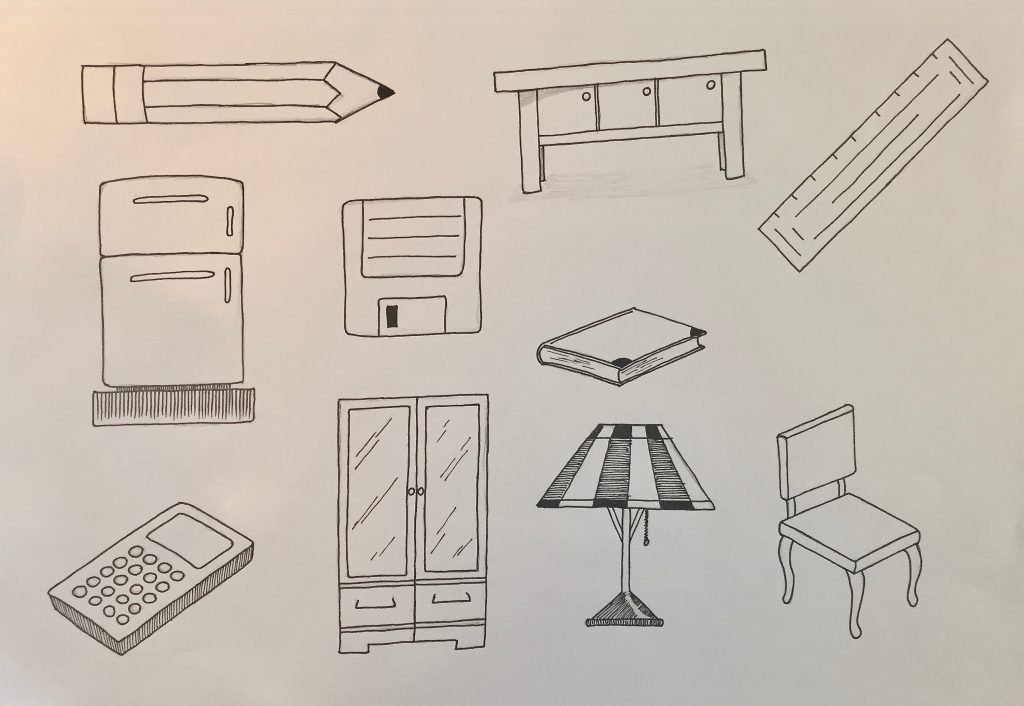 Exercises Based on Tracing Your Own Lines
There are many drawing exercise based on the idea of tracing your own lines over and over again. You can do it slowly and deliberately, using a straight line, a curved line, an s-shaped line, etc. and being very thorough, tracing their exact paths as smoothly and as evenly as possible, in a relatively slow tempo. You could also do it in a more flowing style using different patterns involving circles, squares and any other shape you can think of. And a third option is using some simple and easy drawings instead of just lines. You can take any of the drawings above – the pencil for instance – and just retrace the lines. Do it as many times as you like. This will develop your muscle memory, and the next time you go to draw a pencil (or anything else with a similar shape) it will be a little bit easier and come out a little bit better.
These types of exercises are in the category of "smart practice" (something I will talk about a lot more in later posts) and they are pure gold for developing your drawing hand!
Repetition – A Great Way to Challenge Yourself
Another great way to practice your drawing is by simple repetition. You could very well repeat a lot of the drawings you do, and you should! Think of a basketball player practicing his 3 point shot… He doesn't just do it until he makes the shot, and then considers it done… He practices until he makes the shot hundreds of times! This is the same exact thing! You do the drawing, and then you do it again and again, paying more and more attention to the finer points as you go. And the easy beginner drawings are an excellent tool for this, precisely because they are easy to do… If you're working with something way above your level, this process can easily get frustrating and tiresome.
There are many more ways of challenging yourself, by drawing the same thing repeatedly. Another one I like a lot is simply making the drawings themselves progressively more challenging by adding more detail to the drawings, as you repeat them.
Here is an example of this, where I drew a very simple rose, and then added som difficulty by drawing a bunch of them, and making them into a bouquet. (This is from a lesson in the very recommendable book "You can draw in 30 days" By Mark Kistler)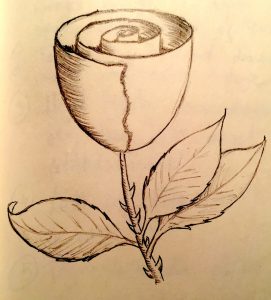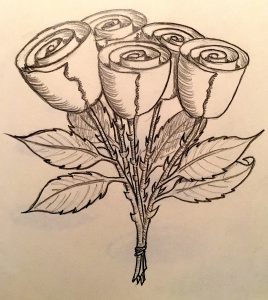 If you're drawing a character, an obvious way to do it, is to change their actions or poses. Perhaps draw a hand differently and add a walking stick or a cup to it. Take one leg and lift it up, as if your character is walking up a flight of stairs… Then add a flight of stairs to your drawing (or if the stairs are too difficult, just draw a box or a rock instead)
You could also try different facial expressions. This is a great way to get a sense of how powerful your lines really are. The smallest of variations can make an enormous difference. Simply the way an eyebrow is slanted, or a slightly different angling of the mouth, can make a huge change in the expression of your character.
A third option, and something you really should be doing, is to experiment with shadows and colors. Shadows are a fantastic way to add more dimension and depth to your drawing, and should really be a focus point of your drawing journey in general, so that is an obvious next step to take in regard to using easy drawings as a practice tool.
All of these exercises can be tools to really lift your drawing skills, and take them to a new level.
I Love Easy Beginner Drawings!
They're an awesome tool for facilitating your drawing journey. They're a good basis for exercises that work your basic drawing skills, as well as a great way to lift your motivation through a sense of achievement.
Don't shy away from using them, because of a notion that everything you do should be great art. This is a misunderstanding, that can actually hinder your development as an artist. It is important to allow yourself to be a beginner, and simply put, this involves two things: the "failed" attempts at drawing something difficult, and the "successful" attempts at drawing something simple.
The key is in your mindset…
…and being honest with yourself about this. You can use the easy drawings to develop specific skills by deliberately using some of the exercises described above, or you can just have fun, and play around with them. This will also develop your skills, just not as deliberately. More so in a general manner of just adding to the fun you're having while drawing, and through adding to your overall "drawing mileage".
No matter how you look at it, it's a winning situation.
Happy drawing!